Freedom of Expression Trailer

2007-08-30 23:51:51 Posted by: ragaman7 Category: Digital Rights

Kembrew McLeod's documentary about Freedom of Expression makes for very compelling viewing.
UPDATE
---
Veoh Sues Universal

2007-08-30 23:53:08 Posted by: ragaman7 Category: Digital Rights

Universal have threatened to sue Veoh for copyright infringement but Veoh are actually suing Universal for making unreasonable threats. They believe they are protected by provisions in the DMCA and they hope to get a declaratory injunction to bar Universal from taking legal action. We will watch this one with great interest.
UPDATE
---
How Reality TV Shows are Edited

2007-08-30 23:53:24 Posted by: ragaman7 Category: FilmMaking/Editing

Charlie Brooker, of BBCís Screenwipe, has a great piece illustrating some of the devious editing techniques used in the creation of reality TV shows. While this isnít breaking news for editors, itís still shocking to see how quickly and efficiently the editing room can change the context of a scene. (courtesy of Tropist)
UPDATE
---
Video Recuts Can Get You Noticed

2007-08-30 23:53:46 Posted by: ragaman7 Category: Remix Culture

Daniel Geduld, the man responsible for 'The Skeletor Show', a series of video mash-ups using clips from the He-Man cartoon overdubbed with new 'comedic' dialogue and a jazz soundtrack, has become the latest example of head hunted talent in the remix world. He added his email address and the line 'Please give me a job. 'I'm talented.' to the end of each clip...and that's exactly what has happened. Similar stories have come from AMDS films, the creators of the Robocop vs Terminator clips among others and Robert Ryang, the creator of 'Shining' the godfather of video recuts. A lesson to be learned...
UPDATE
---
Transformers the Movie (2007)

2007-08-30 23:53:58 Posted by: ragaman7 Category: Movies/TV

I've beeen waiting for this for a long time. It's been worth the wait. I relived my childhood in a cinema screen. Optimus Prime, Bumblebee, Starscream, Megatron...Good times. My childhood heroes have been revamped and updated for the 21st century. ("We learned your languages from the world wide web" - Optimus Prime.) This film will blow you away. Michael Bay has managed to not destroy an ideal of a robotic alien father figure from a planet called Cybertron. This is brilliant. 5/5
UPDATE
---
Democrats Face Voter Questions in New Format

2007-08-30 23:55:57 Posted by: ragaman7 Category: Politics

Very interesting the YouTube - CNN debate. Users at the ground level can have their opinions heard in a new way enabled by technology. Candidates get to appear tech savvy while still airing their own agendas. Still, a step in the right direction methinks.
UPDATE
---
Web Crash 2007

2007-08-30 23:54:35 Posted by: ragaman7 Category: Technology

The World Wide Web has crashed!
UPDATE
---
Pownce: Social Network File Sharing

2008-02-14 00:16:45 Posted by: ragaman7 Category: Business

A new social network from Digg creator, Kevin Rose allows users to combine messaging with file sharing. Pownce also contains the usual ablities to add photos, music and videos to your profile, but it's the file sharing aspect that makes it unique. At the moment, it's invite only.
UPDATE
---
The Pirate Party for Government!

2007-08-30 23:55:39 Posted by: ragaman7 Category: Politics

A European political party seeks to reform copyright laws on an international scale in an attempt to reclaim a thriving cultural landscape of freedom...
UPDATE
---
Ireland: the new gaming platform?

2007-08-30 23:56:10 Posted by: ragaman7 Category: Education

Trinity College are offering a new Masters course in Interactive Entertainment Technology. Letterkenny I.T. also runs a BSc in Computer Games Development. It would be fantastic to see some niche game development companies springing up in Ireland...
UPDATE
---
---
Blogs

Remixd
Digital Rights Ireland
Political Remix Video
This & That
Wreck & Salvage Blog
Imaginify.org
blogonandon
stanislas kazal underground blog
Niall Larkin
Recycled Cinema
Remix Theory
Art Threat
Lessig
JD Lasica
Blogorragh
Boing Boing
Darknet
Damien Mulley


Add a Blog
---
Categories

Remix Culture
Digital Rights
Copyright
Education
Business
Politics
Technology
Movies/TV
FilmMaking/Editing
Other


---
Recommended Reading


Add a Book





Pirate Cinema

Cory Doctorow





Republic, Lost: How Money Corrupte Congress -- And a Plan to Stop It.

Lawrence Lessig





Digital Copyright

Jessica Litman





The Video Vortex Reader

Edited by Giert Lovink and Sabine Niederer





Hillman Curtis on Creating Short Films for the Web

Hillman Curtis





Remix: Making Art and Commerce Thrive in the Hybrid Economy

Lawrence Lessig





Art of the Start

Guy Kawasaki





The Art of Innovation: Lessons in Creativity from IDEO, America's Leading Design Firm

Tom Kelley and Tom Peters





The Pirate' Dilemma

Matt Mason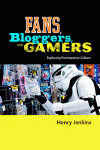 Fans, Bloggers, and Gamers: Media Consumers in a Digital Age

Henry Jenkins





Promises to Keep

William W. Fisher





Copy Fights: The Future of Intellectual Property in the Information Age

Adam Thierer





The Future of Music

David Kusek, Gerd Leonhard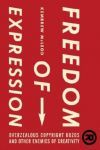 Freedom of Expression

Kembrew McLeod





The Future of Ideas

Lawrence Lessig





The Long Tail

Chris Anderson





The Cult of the Amateur

Andrew Keen





Convergence Culture

Henry Jenkins





Darknet: Hollywood's War Against the Digital Generation

JD Lasica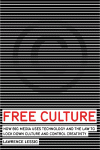 Free Culture

Lawrence Lessig