Featured Artist: AMDS

2009-06-18 11:46:34 Posted by: ikat381 Category: Remix Culture

AMDS is the internet's reigning master of combining separate source footage into visually seamless masterpieces. He has built an impressively varied body of remix work -- from abstract style experiments to PSAs about gun control and traffic safety. But he is best known for tackling the biggest and loudest Hollywood franchises and mixing their heroes together into "dream matches" that draw millions of ecstatic viewers: Neo vs Robocop, Terminator vs Robocop, Arnie vs Sly... With the media industry spending huge sums of money trying to generate an appetite for more and more and more, it was only a matter of time before someone like AMDS came along with a do-it-yourself method for fulfilling the dearest wishes of the world's movie buffs.
A few moments watching AMDS' remixes should convince you of his skills for digital effects and visual storytelling. He carefully manipulates the color hue of his material to create a vivid sense of unity between separate bits of source footage. He inserts quick, inventive digital-effects shots which place the different action heroes together in the same frame. This fall he will be releasing the third episode of his "Terminator VS Robocop" series. The film is 22 minutes long and the trailers AMDS has released for it are already pushing the limits of digital footage manipulation to levels that I've never seen outside of big-budget Hollywood productions.
It would take me too long to itemize the extensive techniques AMDS employs to achieve his effects, so I'll just encourage you to go watch his work -- he has managed to take clips of Hollywood's most marketed action stars and transform them into movies where the biggest star is AMDS.
UPDATE
---
---
Blogs

Remixd
Digital Rights Ireland
Political Remix Video
This & That
Wreck & Salvage Blog
Imaginify.org
blogonandon
stanislas kazal underground blog
Niall Larkin
Recycled Cinema
Remix Theory
Art Threat
Lessig
JD Lasica
Blogorragh
Boing Boing
Darknet
Damien Mulley


Add a Blog
---
Categories

Remix Culture
Digital Rights
Copyright
Education
Business
Politics
Technology
Movies/TV
FilmMaking/Editing
Other


---
Recommended Reading


Add a Book





Pirate Cinema

Cory Doctorow





Republic, Lost: How Money Corrupte Congress -- And a Plan to Stop It.

Lawrence Lessig





Digital Copyright

Jessica Litman





The Video Vortex Reader

Edited by Giert Lovink and Sabine Niederer





Hillman Curtis on Creating Short Films for the Web

Hillman Curtis





Remix: Making Art and Commerce Thrive in the Hybrid Economy

Lawrence Lessig





Art of the Start

Guy Kawasaki





The Art of Innovation: Lessons in Creativity from IDEO, America's Leading Design Firm

Tom Kelley and Tom Peters





The Pirate' Dilemma

Matt Mason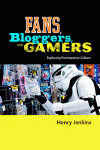 Fans, Bloggers, and Gamers: Media Consumers in a Digital Age

Henry Jenkins





Promises to Keep

William W. Fisher





Copy Fights: The Future of Intellectual Property in the Information Age

Adam Thierer





The Future of Music

David Kusek, Gerd Leonhard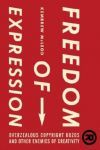 Freedom of Expression

Kembrew McLeod





The Future of Ideas

Lawrence Lessig





The Long Tail

Chris Anderson





The Cult of the Amateur

Andrew Keen





Convergence Culture

Henry Jenkins





Darknet: Hollywood's War Against the Digital Generation

JD Lasica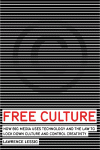 Free Culture

Lawrence Lessig