Featured Artist: Misshapen Features

2009-06-20 06:25:41 Posted by: ikat381 Category: Remix Culture

The official Misshapen Features website has gone down, but I was happy discover that they haven't disappeared altogether. They're best known for the epic "Starlords" video, which mashes up two of the planet's biggest corporate fantasy franchises: Star Wars vs Lord of the Rings. The first half of the movie skilfully combines parallels between the two sources in the tradition of other internet trailer mashups, but the payoff in the second half resembles no remix you've ever seen before.
Misshapen Features takes special care in choosing which sets of footage they mash together, always searching for novel similarities between sources that play on our imaginations and explore peculiarities of our mass commercial culture. They build a miniature love movie starring two stars of fake reality (Lonley Girl meets Borat). They experiment with mixing two effects-saturated comicbook movies for boys (300 Days of Night). One on their mashups deliberately takes one of the most sampled songs of all time (It's Just Begun by The Jimmy Castor Bunch) and plays it in its entirety alongside remixed video footage (the effect is impressive, but that didn't stop youtube's copyright bots from recently stripping the video's soundtrack).
The videos are entertaining but you can detect their critical edge. You may come away from them feeling there's lots of things wrong and strange about a culture where a handful of companies show the same content to millions of viewers simultaneously. If you don't know what to do about it, maybe Misshapefeatures' work will convince you that part of the solution involves taking this footage and remixing it for yourself.
UPDATE
---
---
Blogs

Remixd
Digital Rights Ireland
Political Remix Video
This & That
Wreck & Salvage Blog
Imaginify.org
blogonandon
stanislas kazal underground blog
Niall Larkin
Recycled Cinema
Remix Theory
Art Threat
Lessig
JD Lasica
Blogorragh
Boing Boing
Darknet
Damien Mulley


Add a Blog
---
Categories

Remix Culture
Digital Rights
Copyright
Education
Business
Politics
Technology
Movies/TV
FilmMaking/Editing
Other


---
Recommended Reading


Add a Book





Pirate Cinema

Cory Doctorow





Republic, Lost: How Money Corrupte Congress -- And a Plan to Stop It.

Lawrence Lessig





Digital Copyright

Jessica Litman





The Video Vortex Reader

Edited by Giert Lovink and Sabine Niederer





Hillman Curtis on Creating Short Films for the Web

Hillman Curtis





Remix: Making Art and Commerce Thrive in the Hybrid Economy

Lawrence Lessig





Art of the Start

Guy Kawasaki





The Art of Innovation: Lessons in Creativity from IDEO, America's Leading Design Firm

Tom Kelley and Tom Peters





The Pirate' Dilemma

Matt Mason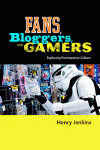 Fans, Bloggers, and Gamers: Media Consumers in a Digital Age

Henry Jenkins





Promises to Keep

William W. Fisher





Copy Fights: The Future of Intellectual Property in the Information Age

Adam Thierer





The Future of Music

David Kusek, Gerd Leonhard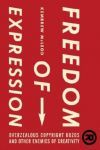 Freedom of Expression

Kembrew McLeod





The Future of Ideas

Lawrence Lessig





The Long Tail

Chris Anderson





The Cult of the Amateur

Andrew Keen





Convergence Culture

Henry Jenkins





Darknet: Hollywood's War Against the Digital Generation

JD Lasica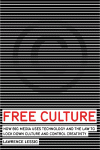 Free Culture

Lawrence Lessig